Date/Time
Date(s) - 04/21/2018
10:00 am - 5:00 pm
Location
Northwest Presbyterian Church
Save this to your Calendar
Download this event to your Calendar using this iCal link or

Event Categories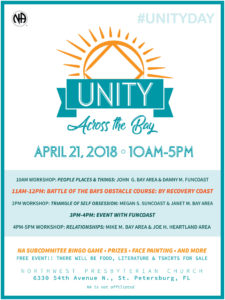 Bay Area Activities Presents: Unity Across the Bay! 9:30am-5pm
First workshop will start at 10am.
10am Workshop: People, Places & Things John G. Bay Area & Danny M. Funcoast
11am. BATTLE OF THE BAYS- Obstacle Course!!!
2pm Workshop: Triangle of Self Obsession. Janet M. Bay Area & Megan S. Suncoast Area
4pm Workshop: Relationship Mike M. Bay Area & Joe H. Heartland Area
Food, drinks, snacks and tshirts for sale.